ROYAL II. LIFEGRENADIERREGIMENT
I 5
History:
The regiment traces its heritage to the cavaleryunits raised in the 1500:s in Östergötland. It later became Östgöta cavalery regiment. The first commander was Hans Rothkirch. In 1791 the regiment became an infantryregiment with the name the Lifegrenadierregiment. The honorary name was granted due to good performance in the war 1788 - 1790. In 1816 the regiment was split into the I. Lifegrenadierregiment and the II. Lifegrenadierregiment. The regiment was located in Linköping. In 1925 the regiment was re-merged with the I. Lifegrenadierregiment to form the Lifegrenadierregiment that finally was dispanded in 1997.
Colors: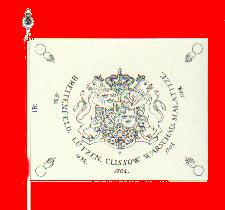 The regiments color was red. The banner was very similar to the on belonging to the I. Lifegrenadierregiment.
Viktory names:
WALLHOF 1626
BREITENFELDT 1631
LÜTZEN 1632
OLDENDORF 1633
WITTSTOCK 1636
LEIPZIG 1642
GOLOMBO 1656
GNESEN 1656
WARSCHAU 1656
FREDERIKSODDE 1657
THE CROSSING OF THE BÄLT 1658
KLISZOW 1702
WARSCHAU 1705
MALATITZE 1708
HELSINGBORG 1710
SVENSKSUND 1790
Device:
"Nulli secundus"
Never second best.