ROYAL KARLSKRONA GRENADIERREGIMENT
I 7
History:
The regiment was raised in 1902 by merging Smålands grenadiercorps and Blekinge battalion. It was located in Karlskrona and absorbed by Kronobergs regiment in 1928 as its III. battalion.
No 7 Royal Smålands grenadiercorps traces its heritage to Smålands light dragoons. From this cavalryunit Smålands dragoonregiments infantrybattalion was formed. In 1824 the battalion was named Smålands grenadierbattalion. In 1888 the name sas chandged to Smålands grenadiercorps.
No 30 Royal Blekinge battalion was raised in 1886 and absorbed a large part of the officers from the disbanded Marinregiment.
Colors: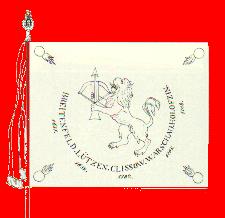 The regiments colors where red and yellow. The lion was red on a yellow background with red grenades in the corners denoting grenadierstatus.
Viktory names:
WALLHOF 1626
WERBEN 1631
BREITENFELDT 1631
LÜTZEN 1632
OLDENDORF 1633
WITTSTOCK 1636
GOLLOMBO 1656
GNESEN 1656
WARSCHAU 1656
FREDERIKSODDE 1657
THE CROSSING OF THE BÄLT 1658
LUND 1676
LANDSKRONA 1677
CLISSOW 1702
PULTUSK 1703
WARSCHAU 1705
HOLOFZIN 1708
HÄLSINGBORG 1710
SVENSKSUND 1790