ROYAL LIFEREGIMENTS GRENADIERS
I 3
History:
The regiment, formerly known as the Liferegiment on foot, was formed in 1893 by merging the Lifegrenadiers on foot and Närkes regiment. It was located in Örebro until disbanded in 1992.
No 3 Royal liferegiment on foot had its origins in the liferegiment on horse that was divided into three corps in 1791. One of these was the Liferegimentbrigades light infantrybattallion that from 1808 was known as the Liferegimentbrigades grenadiers. In 1815 the unit was named Liferegimenets grenadiercorps and became an independant unit.
No 21 Royal Närkes regiment traces its heritage to the Närkes - Värmlands regiment that was split into two separate regiments in 1812.
Colors: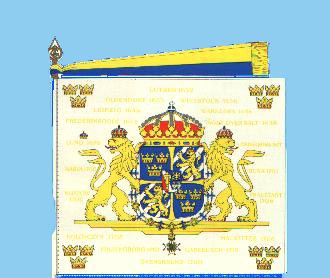 The regiments colors were light blue and white.
Heraldic symbol:
The national three crowns surrounded by a straw wreath to commemorate the battle of Lund.
Victory names:
WALLHOF 1626
DIRSCHAU 1627
LUETZEN 1632
OLDENDORF 1633
WITTSTOCK 1636
LEIPZIG 1642
WARZAWA 1656
GNESEN 1656
FREDERIKSODDE 1657
THE CROSSING OF THE BÄLT 1658
LUND 1676
LANDSKRONA 1677
NARVA 1700
DUENA 1701
KLISZOW 1702
PULTUSK 1703
FRAUSTADT 1706
HOLOVZCYN 1708
MALATITZE 1708
HÄLSINGBORG 1710
GADEBUSCH 1712
SVENSKSUND 1790
Device:
"Artibus et armis recuperatur gloria"
Knowledge and weapons gives glory
Celebration day:
4th of December. The anniversary of the battle of Lund.