ROYAL NORTHERN SCANIAN DRAGOONREGIMENT
K 2 P 2
History:
The regiment traces its heritage to the older the scanian cavalry regiment that was raised in 1928 by the merging of the scanian hussars, the scanian dragoons and the crown prince´s hussars. The scanian hussar tradition became the most important. The regiment was located in Helsingborg. In 1942 the regiment was transferred to the newly created armored corps and recieved the name the scanian armored regiment. In 1947 it was relocated to Hässleholm. The re-forming of a new scanian cavalry regiment in 1945 led to a change in tradition and the dragoon tradition became the more important one. In 1963 the regiment got the name the scanian dragoon regiment and when the northern scanian regiment was disbanded in 1993 their traditions was to be upheld by P 2 which led to the latest name change. From 1993-2000 the regiment raised the dragoonbrigade equipped with Strv 121 and Pbv 302. In 2000 the regiment was selected for disbandment.
Colors: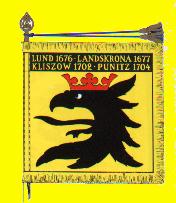 The regimental color is yellow. The regiment uses all of the parent units banners/standards at certain ceremonial celebreties.
Victory names:
LUND 1676
LANDSKRONA 1677
KLISZOW 1702
PUNITZ 1704
Device:
"Trohet, ansvar, rättrådighet"
"Fidelity, responsibility, righteousness"
Celebration day:
28th of October. The anniversary of the battle of Punitz.