ROYAL NORTHERN SCANIAN REGIMENT
I 24 I 6 P 6
History:
The regiment was raised in 1811 and recieved the number 24. When Västgöta regiment was disbanded in 1928 the northern scanian regiment assumed its number. In 1963 the regiment was transfered to the armored corps. The regiment was located in Kristianstad and was disbanded in 1994. Until then it raised the 26th armored brigade equipped with Strv 104 and Pbv 302.
Colors: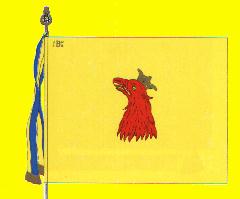 The regiments colors are yellow and red.
Celebration day:
13th of September, the anniversery of the battle of Juutas, since that battle was won by the regiments first commander, Carl von Döbeln.