ROYAL SCANIAN DRAGOONREGIMENT
K 6
History:
The regiment traces its heritage to a regiment raised in Kronoberg in 1676. In 1679 the regiment was located in Scania and in 1695 it recieved the name Southern Scanian cavalryregiment. In 1805 it was renamed the Scanian Carabinier regiment. In 1833 it recieved its final name. It was located in Ystad and merged with the Scanian hussars and the Crownprincess hussars to form the Scanian cavalry regiment in 1928.
Colors: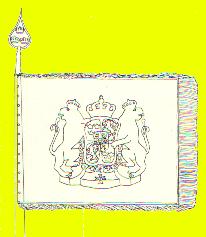 The regiments color was yellow.
Victory names:
CLISSOW 1702
PUNITZ 1704
Celebration day:
9th of July. The anniversary of the battle of Clissow.