ROYAL SVEA LIFEGUARDS
I 1
History:
The regiment traces its heritage to the lifeguards that was assigned to Gustav Vasa in 1521. This makes it the oldest regiment in the swedish army. From this lifeguard unit the elite drabantcorps emerged and from this a fänika (the original name of the tactical formation in the late dark ages) was raised. In 1608 the fänika lost its guards status but in 1613 Gustaf II Adolf raised a liferegiment of his own that was disbanded the same year. In 1615 a new liferegiment was raised arond the lifecompany of the old one. This regiment was disbanded the next year but in 1618 a new regiment was raised around the old lifecompany. This regiment was named the Drabantregiment. In 1621 it was renamed the Courtregiment. It was disbanded in 1624vbut simultaneously a new regiment was raised, later called the yellow regiment. After the death of Gustaf II Adolf the regiment lost its guards status. Only the Drabantcorps remained and around it the Courtregiment of queen Kristina was raised and in 1649 it was transformed into the Royal majestys guards and liferegiment. Karl X Gustav reorganized and enlarged it into the Royal majestys lifeguards on foot and horse. After the edath of Karl X Gustav it was reduced to a companysize unit but when Karl XI reached maturity it was reorganized into a infantryregiment and a cavalry battallion again under the name Royal majestys lifeguards on foot and horse. Karl XII organized the cavalry battallion as an independant units and the regiment was renamed Royal majestys lifeguards on foot. In 1791 under Gustav III the regiment was renamed the Royal majestys first lifeguards due to the raising of a second. In 1792 it was renamed Royal Svea lifeguards. Gustaf IV Adolf deprived the regiment of its guards status and renamed it Fleetwoods regiment. This was rectified by the crownprince Karl Johan in 1809 that renamed it the Svea guards, a year later the Svea lifeguards. The regiment has always been located in Stockholm. Between 1948-1957 it was an amored infantry regiment. From 1993-2000 the regiment raised the 1st (Lifeguards) infantry brigade. A unit best described as a mechanized infantry brigade with one battallion CV-90 and two battallions Pbv-302 as well as the normal artillery, logistical and C3I assets. After 2000 the regiment will cease to tarin for the brigades but will have full responsibility of traing all special "FIBUA" (Fighting in built up areas) battallions.
Colors: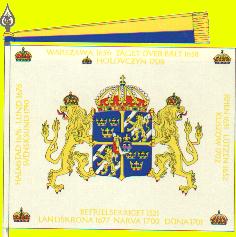 The regiments color is yellow.
Heraldic symbol:
The regiment as a lifeguards regiment uses the namechiffer of the ruling monarch in silver .
Victory names:
THE WAR OF LIBERATION 1521
RHEN 1631
LUETZEN 1632
WARZAWA 1656
THE CROSSING OF THE BÄLT 1658
HALMSTAD 1676
LUND 1676
LANDSKRONA 1677
NARVA 1700
DUENA 1701
KLISZOW 1702
HOLVCZYN 1708
SVENSKSUND 1790