ROYAL VÄSTERBOTTENS REGIMENT
I 20
History:
The regiment traced its heritage to the fänika (tactical unit used in the late dark ages) raised in the 1500:s in Västerbotten. The oldest documents are from 1552. In 1615 these fänikas was used to create a regiment of 3000 men, that was split in two smaller regiments in 1624. One of these became Västerbottens regiment (the other became Hälsinge regiment.) The first commander was Axel Duvall. In 1829 the regiments name was changed into Västerbottens fieldjaegerregiment and in 1841 it was split into two corps: No 19 Norrbottens fieldjaegercorps (Norrbottens regiment) and No 29 Västerbottens fieldjaegercorps. In 1892 the latter was enlarged into Västerbottens regiment and in 1893 it recieved the number I 20. In 1909 the regiment was located in Umeå. The regiment had a relationship with the finnish Nylands dragoonbattallion (formerly a regiment) that it fought alongside in the battle of Fraustadt. The finnish unit also has a savage as its heraldic sign but the club rests at his foot. I 20 was disbanded in 1997.
Colors: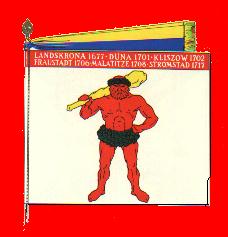 The regiments colors where red and white.
Victorynames:
LANDSKRONA 1677
DÜNA 1707
KLISZOW 1702
FRAUSTADT 1706
MALATITZE 1708
STRÖMSTAD 1717
WILLMANSTRAND 1741
Celebrationday:
3:rd of February, the anniversary of the battle of Fraustadt. The anniversary of the battle of Willmanstrand is also celebrated on the 23:rd of July.
Device:
"They have never failed or themselves lost".
Said by king Gustaf III in the campaign of 1788 about Västerbottens regiment.