ROYAL VÄSTERNORRLANDS REGIMENT
I 28 I 21
History:
The regiment traces its heritage to Västernorrlands conscript batallion that was raised in 1853 and 1854. In 1887 the batallions name was changed to Västernorrlands batallion. In 1893 the batallion had grown and consequently the name was changed to Västernorrlands regiment. In 1911 the regiment was located in Sollefteå. In 1928 the regiment got the new number 22 since Kalmar regiment had been disbanded. Today the regiment raises the 21:st Norrland brigade that is beeing reorganized from an oversnow motorized brigade to a mechanized oversnow brigade with CV 90 and Pbv 401 (the swedish version of MT-LB).
Colors: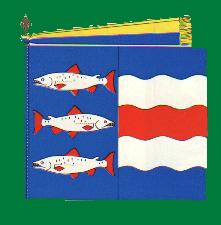 The regiments colors are green and white.
Device:
"För ditt land, Din hembygd, Ditt regemente."
"For your country, Your home, Your regiment."