ROYAL SÖDERMANLANDS REGIMENT
I 10 P 3 I 10 P 10
History:
The regiment traces its heritage to the fänika (tactical unit used in the late dark ages) raised in Södermanland in the 1500:s. The oldest documents telling of fänikas and men- at- arms in Södermanland are from 1560. From the fänikas raised in Närke, Värmland and Södermanland a regiment was formed in 1614. In 1627 this regiment was devided into two smaller regiments. One of these became Södermanlands regiment while the other became Närke- Värmlands regiment. In 1921 the regiment was located in Strängnäs where it still remains. In 1939 the regiment organized an armored batallion and in 1942 the regiment was transferred to the newly created armored corps. It got the new name Södermanlands armored regiment and the new designation P 3. In 1957 the regiment was reorganized into an armored infantry regiment and got its old name and designation back. In 1963 the regiment was once again transferred to the armored corps. By now the designation custom had changed and the new designation became P 10. From 1993-2000 the regiment raised the 10:th mechanized brigade that was reorganizing from Strv 101R and Pbv 302 to Strv 121 and Pbv 302. After 2000 the regiment will train Pbv 302 and CV 90 units for the new brigades. Tank training will continue until 2002.
Colors: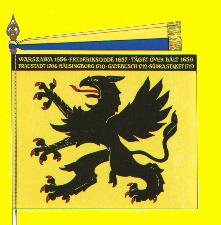 The regiments colors are yellow and black.
Victorynames:
WARZAWA 1656
FREDERIKSODDE 1658
THE CROSSING OF THE BELT 1658
FRAUSTADT 1706
HÄLSINGBORG 1710
GADEBUSCH 1712
SÖDRA STÄKET 1719
Celebrationday:
The 13:th of August, the anniversary of the action at Södra stäket.