THE ARTILLERY REGIMENTS
A TRADITIONAL SWEDISH PRIDE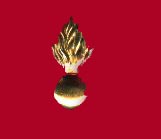 The artillery has a legacy that dates back to the dark ages. But it was not until 1623 that any real regiments were raised. At the end of the 1600:s there was the royal artillery regiment assumed all responsilbility for all the various units. In 1794 it was divided into four equal parts of which one was in Finland. The loss of Finland in 1809 meant that until the end of that century there were three regiments. In 1901 there were six regiments, one corps, a fortress artillery regiment and one static artillery regiment. In 1942 the anti aircraft artillery was separated into a branch of its own. Until the middle of the 1980:s the army aviation was part of the artillery.
Today the artillery raises the brigades artillery battallions as well the divisional artillery units, the artillery regiments, as well as training the battallion artillery batterys in the brigades that use howitzers at that level.
The branchcolor is darkred allthough it was blue from the start. The banners are all light blue with a common look, the left upper corner having the heraldic insignia of the part of Sweden were the unit is/was located.
The defence decision of 2000 means that all but one regiment, A9, will be disbanded and all artillery units will be the responsibility of A9 only.